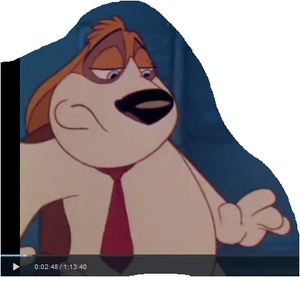 Rover Dangefield (voiced by Corey Burton) is main protagonist of the film of the same name.
It is about a street dog named Rover, who is owned by a Las Vegas showgirl. Rover gets dumped off Hoover Dam by the showgirl's boyfriend. However, rather than drowning, Rover ends up on a farm. Rover has difficulty adjusting to life on the farm, but with the help of Daisy, the beautiful dog next door, and the other dogs on the farm, he succeeds in earning his keep. Rover spends Christmas with the family, and begins to fall in love with Daisy, who returns his affections. However, one night, a pack of wolves attempt to kill the Christmas turkey on the farm. Rover attempts to save the animal, but ends up caught by Cal while holding the dead bird, looking as if he killed it. Cal takes Rover into the woods in order to put him down, but is attacked by the wolves. Rover manages to fight the wolves off, and brings the other farm dogs to get an injured Cal home.
Rover's heroics make the papers, allowing Eddie and Connie to find out where he is. Connie travels to the farm and brings Rover back to Vegas, where Rover begins to miss his life on the farm. While Rover happily listens, the thugs proceed to reveal that they set him up and imply that they are going to murder him by throwing him into the Hoover Dam.
Some time later, Rover, missing Daisy, becomes depressed. Connie, realizing her old companion met someone, takes Rover back to the farm to stay. Rover is reunited with Daisy, who reveals to him that he is now a father, unveiling six puppies. The story ends with Rover teaching his kids how to play cards, and playfully chasing Daisy around the farmyard.